On Sept. 9, AVEngineers hosted the Girls in Engineering event, a two-day long workshop that introduces female high school and middle school students to the world of engineering and computer science. This particular workshop was focused on robotics.
AVEngineers specialize in preparing and competing for the annual international VEX Robotics competitions. The contest challenges high school teams to design and build robots in a game-based environment. However, there have been criticisms about the VEX competitions lacking female enrollment despite growing rapidly in members.
"We have seen that in our club as we had a very low percentage of female members, and so our goal here is to expose the girls in our community to STEM from early on. From there, it will snowball into high school, college, and the professional world. But we probably won't do this program again if it meaningfully reduces the gender gap,"  said AVEngineers president Ryan Vir ('24).
Even with females representing half of the workforce, they only make up a quarter of STEM occupations. Therefore, to inspire local aspiring engineering students, UC Berkeley Combat Robotics club members joined the workshop and showcased their technical journey and achievements in creating a Battle Bot.
"There is a very big problem with the gender divide in the field. The workshop aims to introduce girls to these concepts so they can feel more confident. The Berkeley students serve as an example of how you could use this information in the future and how the girls are very capable and ready to do that if they do this workshop," said AVEngineers club member Ira Dharia ('24).
Alongside the Berkeley students' presentation, the workshop featured three stations focusing on the different aspects and skills of robotics. That included coding, the engineering process, and team-building, in addition to learning the specific parts of the VEX robots.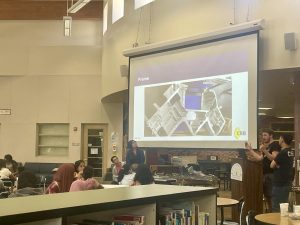 "Engineering seems really cool. I really wanted to see how robots work and what I would learn if I got interested in coding," said Hart Middle School student Yuga Dharia.
The workshop received over 40 attendees, consisting of mostly middle school students. As such, the event served as a gateway to robotics and to high school competition-based engineering clubs
"I've seen many students have the opportunity to start young and it really greatly impacts their future success. I've done internships before where the entire program only had two women to a hundred men. So I think having a workshop whose target audience is girls shows they are not alone and allows people to learn STEM in a more welcoming community," said UC Berkeley student Kyle Miller.