The Dons Complete the Sweep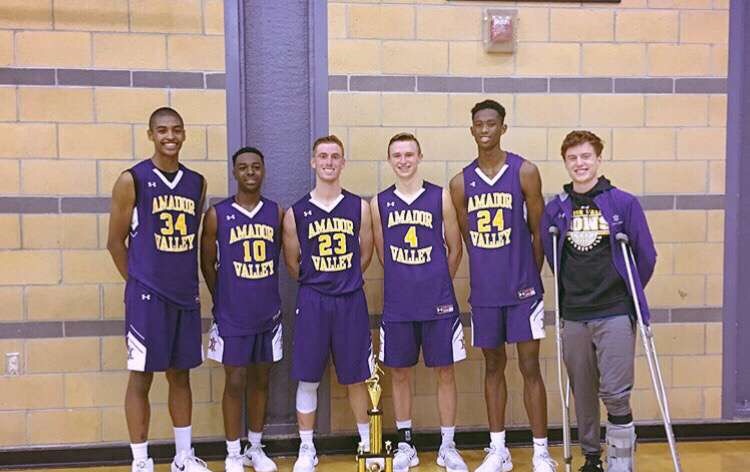 Zachary Kolia, Sports Editor
February 21, 2018
    Rivalry week was yet again a success for the Boys and Girls Varsity Basketball teams. After a 65-63 overtime win for the lady dons on Thursday and a 45-35 boys win on Friday, the season sweep of the falcons was complete.
The JV lady dons took care of business in their first meeting with foothill at home with a score of 52-48. Thursday night's game between the two was a high scoring overtime thriller. The first half charge for the Dons was led by Jenny Yang ('20) making big plays offensively and Julia Balesteri ('19) defending with ease.
"It was a well deserved win and it was a good way to spoil foothill's senior night. I'm very happy with how the game ended" said Yang.
   After 4 tough quarters of back to back scoring, the Varsity girls game came down to one final possession. Guard Taylor Sowers ('18) inbounded the ball to forward Nicole Riordan ('18) with 3.3 seconds left to set up a game winning buzzer beater for Riordan. The big shot ended the game with a final score of 65-63.
   "It was a great feeling to have the two seniors on the team win the last rivalry game in the final seconds. Nicole and I have been playing together for years and that will be my favorite memory of my last four years of amador basketball," said Sowers.
   In last month's meeting with the falcons, the boys took an easy double digit win on the road against the falcons with a final score of 52-42. Tuesday night at home, they were hungry for more. It was senior night for the Dons, showing appreciation for the seven seniors on the varsity squad.
   "It was good to see our team overcome being down by 11 points and rally together on our home court and be 2-0 against them this year and the seniors last game against foothill" said Brian Turner ('18).
   Tommy Kramer, Mitch Benson, Demetrius Williams, KC Thompkins, Brian Turner, Mitch Lawrence, and Liam Rodriguez were all recognized for their performance the past 4 years and had big nights in their final home game. The boys started off slow in the first half with several turnovers and were down by double digits. After a halftime buzzer beater by Mitch Benson from beyond the arc, the dons went into the locker room ready for a big second half.    
    "It was an unbelievable feeling being able to beat foothill on our last night playing in Amador's gym. It was great to get them back from last year," said Benson.
   Entering the fourth quarter, the boys had cut the lead down to just two. The final quarter was all Amador Valley with big plays from Jaden Sheppard ('19) on the fastbreak and Tommy Kramer ('18) scoring six consecutive points.
   "It was a great team win. We struggled in the first half but really came together as a team to come back in the second and go on a 21-0 run which allowed us to win and pushed us into EBAL playoffs" said Kramer.
    "It was a unbelievable feeling words can't describe just because it was our last home game and we were down double digits in the 3rd quarter but our 6th man never gave up on us and it was fun to celebrate with them," said Thompkins ('18).
   Amador basketball finished their season series with Foothill 4-0 in big time games that will be remembered by both teams seniors, players, and coaches for years to come. The boys and girls look to continue their momentum in EBAL playoffs and NCS playoffs.