Reflecting on Mix-it-Up Day
Hang on for a minute...we're trying to find some more stories you might like.
    A special day that gave an opportunity for freshman to not only meet new upperclassmen, but also make new friends in their peer group, Mix It Up Day gave a valuable opportunity to freshman.
    "Freshmen benefit from this event because they are able to meet other classmates they wouldn't normally meet. They also have the opportunity to ask upperclassmen for advice that could guide them through high school," said Bridget O'Sullivan ('18), coordinator of the LINK program.
    Having four years of experience in high school can translate to valuable guidance for freshman. Seniors know the highs and the lows, and can help freshman have the best experience of high school as possible.
    Not only does the advice of the Seniors help, but also the fact that freshman can meet new people in their grade. This can be essential in sharing important skills and developing confidence in students.
    "I enjoy coordinating this event because I can see the positive difference that it makes on campus by promoting inclusion and acceptance. Through meeting new people, students realize that we all have so much in common and that our differences make us stronger," said Nicole Zhang ('18), President of Amador Student SEED.
    Freshman seeing what other students have in common can help them get through barriers, as they can see that others are going through the same things, and can also form lasting bonds of friendship.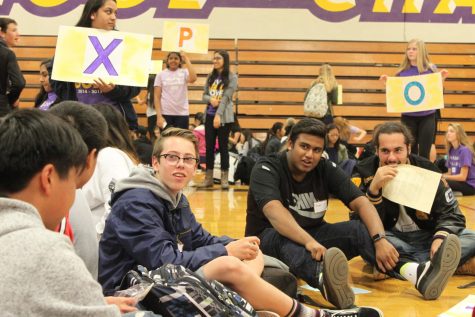 "It is a privilege to get to advise an event that fosters building relationships on the Amador Valley campus. I love Nicole's vision and the tradition that she has built for the freshman classes as well as the upperclassmen through Mix it Up at Lunch Day. I believe when students are involved and feel accepted on campus they will thrive both personally and academically," said Mary Scavone, advisor of Mix It Up at Lunch Day.
    Feeling accepted in a community can boost confidence and perseverance. Students will want to succeed for themselves and their peers. Mix It Up Day is a valuable event for Amador Freshman.
Last year was the first annual Mix-it-Up day, and under the leadership of Nicole Zhang, we hope it continues to remain a tradition for years to come.