Fantasy Football Update: Week 5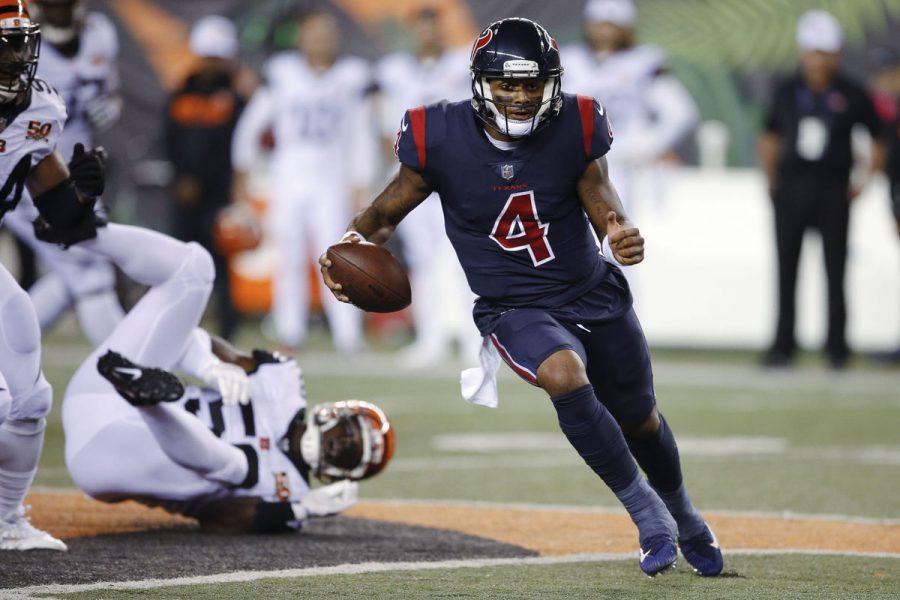 Zachary Kolia, Sports Editor-In-Chief
October 4, 2017
  Throughout the first four weeks of the NFL season, people have been stressed out and excited due to their fantasy football team's performances.
   In week four there were many star players that received significant injuries. Raiders Quarterback Derek Carr suffered a fracture in his lower back and will be out for 2 to 6 weeks.
   "As a Raider fan and a fantasy owner, this is very upsetting news. Carr was my guy, but I know he will bounce back," said Terrance Van Tuyl ('18).
   Stand out rookie running back Dalvin Cook tore his ACL and will be out for the whole season. He was second in the league in rushing goin
g into week four.
   Atlanta Falcons wide receiver Julio Jones strained his hip flexor against the Bills this weekend, but it is not considered a significant injury. If you have any of these players on your team, you should start looking at the waiver wire.
   If you're in need of a player due to a starter being injured, there are many sleepers being left on the waiver wire.
   Buccaneers running back Doug Martin is finally active after being suspended for the first games of the season. Martin has a history of being a reliable RB1/2 so take a look to see if he is still available in your league.
   "I picked up Martin the second I saw him on the waiver wire. Others should too," said Sean Sexton ('18).
  If you need quarterback, Texans rookie quarterback, Deshaun Watson is coming off the best rookie performance by a QB in NFL history in week 4. He totaled five touchdowns against the Titans and was the leader in fantasy points for the week.
   For teams that have Dalvin Cook, look to pick up his backup Latavius Murray. Cook's injury has opened up a big opportunity for the Vikings running back. Murray is a reliable running coming off an 1,000 yard season in Oakland last year, and can really help out your fantasy team.
   "I tried getting Murray this week but somebody else got him before me. I think he is going to do very well replacing Cook," said Jacob Lovell ('20).
   Hopefully this helped out your fantasy team, be sure to check back soon for more updates to help you out this season!