Amador Valley holds 2022 Hall of Fame Ceremony
Amador Valley High School held the 2022 Athletic Hall of Fame ceremony at halftime during the varsity basketball game against Dublin High School on Jan. 26. Prior to Thursday night, Amador had inaugurated 10 athletes in the Hall of Fame. 
The Amador Valley Hall of Fame Ceremony shows appreciation to former student-athletes that stood out amongst the respective candidates.
The 2022 class featured five new inductees: Eugene Vargas (Male Athlete), Jackie Gilbert (Female Athlete), Don Underwood (Coach), 2014 Softball (Team), and Bill Selway (Community Member). They each received plaques and gave heartfelt speeches during the ceremony.
"The guy the gym's named after, Skip Mohatt, really was my mentor and he's one of the greatest high school coaches ever in the Bay Area. He really set the tone for the program and I've just tried to carry on his legacy," said Don Underwood.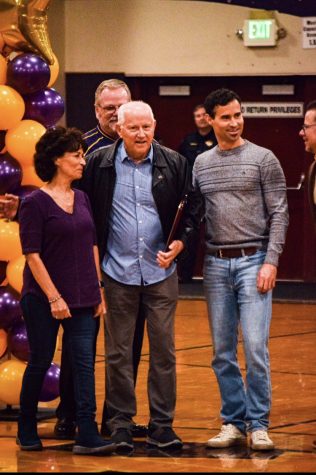 Underwood coached basketball at Amador Valley for 36 years and led the varsity team to 484 wins in 25 years. He retired in 2006 with the most wins in EBAL history. 
"It's really a validation of all the people that worked in the program and helped coach with me for years, and mostly the quality of kids we have here as the success we had was really based on the players. It's a very nice honor," said Underwood. 
Anyone can nominate an individual for next year's Hall of Fame class at the boosters website through the Google Form. Once the nominations are in, the committee sits down to review the nominees and decide on the final inductions for each class.
"This class spans many decades. We try to get a wide range of (athletes) and there are a lot more coming. We already have people in mind for the fall of 2023 ceremony. It actually was very difficult to decide which people to be in the Hall of Fame," said parent and ceremony director Jennifer Murphy.
This season, the ceremony was held in the winter after it was last held in 2021 during a football game that featured the previous 10 members of the Hall of Fame. 
"The ceremony will follow up to be every fall, so it'll be during the football game and it will continue annually," said Murphy. 
Leave a Comment