New Access Period Schedule Approved for Amador Valley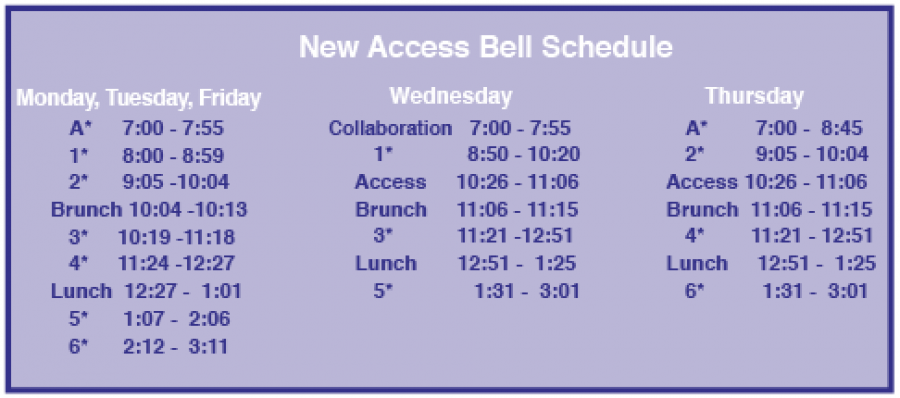 Nanette Lui, News Editor
May 3, 2017
On March 22nd, 2017, a school-wide email was sent out by Mr. Williams saying, "Last week the PUSD School Board approved Amador Valley's request to pilot a new bell schedule for the 2017-2018 school-year."
This new bell schedule includes the new Access Periods that AVHS will pilot for PUSD.
With the new calendar,  the schedule for Monday, Tuesday, and Friday are the almost same as before: students come to school at 8:00 and go to all six periods. The only difference is that the classes have been extended to 59 minutes, and school lets out at 3:11.
On Wednesday and Thursday however, the bell schedule has changed radically. School begins later at 8:50 on both days (A Period begins at 7:50).  Students will also only attend 3 periods of classes a day. They will attend their 1st, 3rd, and 5th period classes on Wednesdays, and  their 2nd, 4th, and 6th period classes on Thursday.
These changes reflect the decisions that were made by the administrators and staff after a year of research, collaboration, and review.
AVHS is a top-performing school and the campus serves over 2,700 students that are part of what many researchers call the 'most stressed-out generation in history'. 
AV teachers and students have spent the last few years trying to identify the best way to serve the diverse student population that makes up Amador Valley.
After a year of intense collaboration meetings and research done by a special committee of teacher, counselors, and administrators, the decision was made to try to new type of schedule.
Administrators and teachers decided to incorporate a schedule that integrated an ACCESS period into the class schedule in order to offer students more than their usual classes each day. On Wednesday's and Thursday's, after students attend their first class, there is a 40 minute access period, during which time students will be able to access support.
Support options would include connecting with teachers for tutoring and make-up opportunities, obtaining support from counselors, participating in wellness activities that help students deal with things like stress, or pursuing opportunities to get assistance with other academic needs.
"[I am excited] for students to have the opportunity to have time build into their schedule to get the support they need or to just have the time they need to catch up in their work," said Principal Mr. Williams.
"I'm not quite sure about the full repercussions [of the new schedule], but I'm kind of for it [the new schedule] because I won't have to choose between eating lunch and going to a club meeting, or eating lunch and making up a quiz anymore. I'll be able to do both, which should help me stay awake through my other classes," said Quincy Kumfert ('19).
In addition to the new schedule next year, a new system of attendance may also be put into place.
"We're looking to get a data-processing application, where you would scan-in. This could be not just for ACCESS period, but also for school dances [and] athletic events. It would speed-up the process of getting in," said Mr. Williams.
With this new attendance system, the school would be able to easily monitor where students were during the Access Periods.
"I'm curious to see how this all plays out…Anything that can mechanize [the attendance system] is better… especially when there is a substitute in the classroom and they don't know everybody, [the scan-in system] will [allow] for more integrity in the system. If it's automated, it makes [the system] less prone to subjectivity," said Ms. Sklar, an English teacher at Amador.
However, given that this is a new system, everyone is aware that there will be growing pains.
 "I think [the new system] will be easier on the teachers… For students, [it is possible] that they will try to find work arounds… Also, you could easily say that you were [in class] when you're not. I feel like student's could say, 'Hey, I'm going to go for a coffee. Could you scan me in?'" said Trent Mocha ('19).
Things are definitely going to be different at school next year.
"I think students will receive the support that they need… this will be accomplished [not only] with the ACCESS period, but [also] with the modified block, which allows [students] to schedule their time more appropriately… similar to college" said Mr. Williams.