Homecoming Week wraps up at Amador
Amador Valley took Homecoming to a whole new level this year as they began the process to bring back class floats. 
The Homecoming Week celebrations took place this year from Oct 3 to Oct 7, with the dance being held on campus on Saturday, Oct 8. This year's theme was Red Carpet Movie Premiere which gave these events a Hollywood feel and allowed students to show off their school spirit.
"I decided to dress up because I just wanted to have fun. When I look back at high school I want to be able to say I tried to have the most fun I could by just wearing things I already have," said Camden Nauroth ('24).
The weekly Spirit Days consisted of Monday's monochrome outfits, Tuesday's iconic duos, "on Wednesdays we wear pink", Thursday's movie premiere night in, and Friday's class movie themes. 
Each grade level was assigned a movie as their theme. Then students created floats to reflect the movie. The floats were driven around the track during the rally. The classic films consisted of Shrek for the Freshman, Frozen for the Sophomores, Toy Story for the Juniors, and Minions for the Seniors.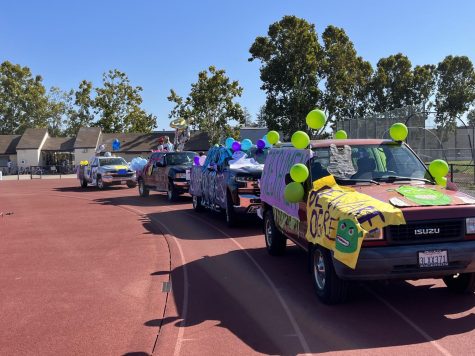 "Since it's homecoming week I really wanted to show some school spirit and just participate so I decided to dress up as a minion," said Emma Baer ('23).
Leadership students worked for weeks putting together the homecoming week's activities and preparing for the homecoming dance.
"I dress up for the spirit days so I can represent my school and I like seeing everyone dress up as well," said Holland Roth ('26).
The floats for Homecoming were great practice for next year when the 100th centennial committee holds the Centennial Homecoming Parade down Main Street in Pleasanton.
Check out the Homecoming 2022 Recap video here!