The British Commonwealth: past, present, and future
Queen Elizabeth II died aged 96 on 8 September 2022 at Balmoral Castle, Scotland. In her passing she leaves behind her family, the throne of the United Kingdom, and more significantly, her position as the head of the Commonwealth.
Charles III has replaced his mother as the ruler of the Commonwealth, in a period of time where multiple Commonwealth realms have expressed their desire to become republics- much like the nation of India, which shed its monarchical roots back when it attained independence.
"India's progress since the colonial days is very impressive, rebounding from a third-world British colony to being one of the top leaders in economic production." said Maig Patel ('24).
Realms such as Jamaica and Antigua & Barbuda had already declared their intention to become republics months ago. The Oceanic nations of Australia and New Zealand are less interested, while Canada says it is unlikely to pursue Republicanism anytime soon.
"I have no idea if the Australian government has given any thought to becoming a republic, but I feel like there is definitely talk about it, because we act as if we're already independent, even though we're not. I think I definitely support the notion though," said Samuel Mah ('23).
This lack of interest is understandable when you take into account how little influence the monarchy has retained over their realms as the years have passed by.
"Even though Australia is not really independent, we don't see ourselves as being under the British. The monarchy isn't really acknowledged in our country at all," said Mah ('23).
In fact, a vast majority of Australians do not pay heed to the monarchy at all, thinking of the role of the head of state as nothing but a ceremonial title.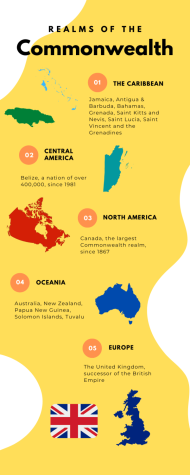 "They're just in our currency, and that's it. In the area where I lived, people just thought 'it is what it is, we're under the British still,' but there is no real association," said Mah ('23).
Caribbean nations that do desire to get rid of the constitutional monarchy, however, say it is to end a cycle of colonialism that has haunted their nation for decades, sometimes even centuries.
"This is not an act of hostility or any difference between Antigua and Barbuda and the monarchy, but it is the final step to complete that circle of independence, to ensure that we are truly a sovereign nation." said Gaston Browne, Prime Minister of Antigua & Barbuda, in an interview with ITV.
Like Browne, these Commonwealth realms wish no bad blood between themselves and the monarchy. They desire to remain in the Commonwealth as republics in order to preserve their economic and diplomatic ties with the organization's members.
In fact, even citizens of nations such as India that had undergone brutal treatment at the hands of the British Empire seek to maintain peace and order within the Commonwealth, even going as far as to mourn for the Queen when citizens of other countries refuse to do so.
"In terms of actual victory, we won over 50 years ago when we became independent, so we can't really rejoice at the death of the queen's passing like that," said Patel ('24).
While some Commonwealth Realms seek to cut ties with the British monarchy permanently, it would be safe to say that the Commonwealth has not been negatively affected by this series of events. After all, the diplomatic ties between these countries will live on in the future, a testament to their post-colonial efforts in forging strong bonds of fellowship.