Pink Out Game Makes a Difference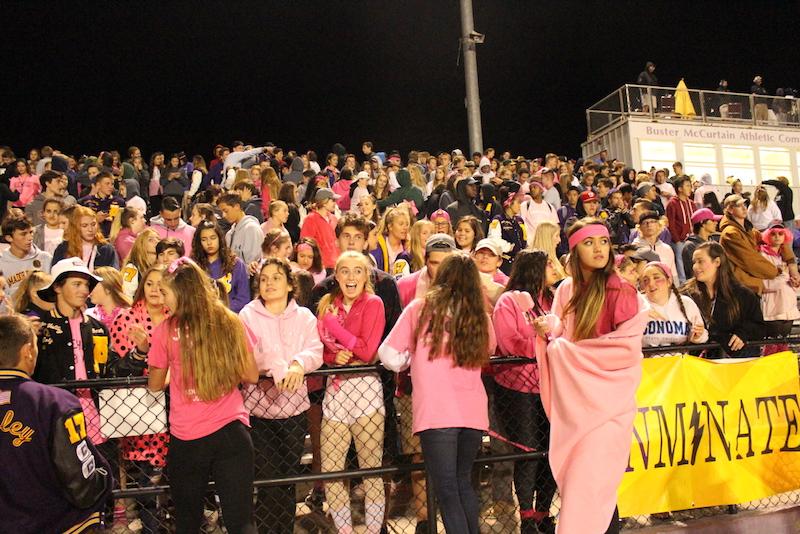 Cathrine Lilja, Photo Editor
October 10, 2016
    Throughout the fall, there are several home football games, each with its own crowd of supporters. However, one of these games is celebrated as a special event.
    The Pink Out Football game, an event to raise money and awareness for Breast Cancer, has been introduced in recent years. Spectators are asked to wear all pink instead of the usual Don Deckout gear.
    "It's been going on at the professional level, and colleges have been recognizing it; we had been doing it, but it had never been a formal thing, with a couple of kids in pink and a couple not. We wanted to make it more of an official thing in athletics. This year leadership took over," said Lou Cesario, the Athletics Director.
    Cancer is a significant cause for Americans to gather around, with 36.9% of Americans diagnosed with cancer in their lifetime. Breast cancer is one of the most common forms of cancer; 1 in 8 women will be diagnosed with Breast Cancer in their lifetime.
    "It brings attention to Breast Cancer, because people are like, 'why are they wearing pink,' and they learn more about the issue," said Austin Telles ('18).
    "It's so cool how people get involved with buying shirts and supporting the cause, and join together to help tackle this issue," said Meg Shriber ('18).
    At this game, Leadership raised around $1000 for cancer research, and sold more than 150 shirts to students to raise money. We hope that, going forward, the games will continue, along with thousands of events like it, to raise money and awareness, so that one day we can successfully treat all cancers.