The prospects of a seven period schedule
Students at Amador Valley currently have a six-period schedule, with an optional A period if they participate in orchestra or band. However, students and teachers have been seeing a brewing discussion about a seven-period school day for all. 
Through a possible switch from a six-period schedule to a seven-period schedule, the district, teachers, and students have mixed feelings about the issue. Depending on the cost, interest, stance, and practicality, the issue may be pushed to the district board for consideration over the next few years.
The Upsides and Downsides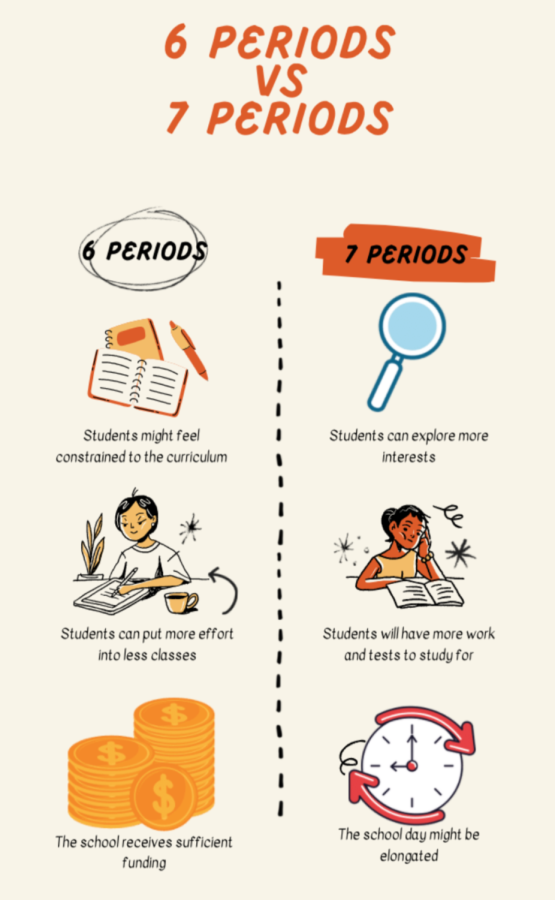 Many students are supportive of the seven-period schedule because it allows slots for other fun electives like culinary, ceramics, and journalism. Other motivated students might opt to fit more AP classes and boost their college resumes. However, the additional period is very unlikely to be implemented since there are many issues with the plan, such as the cost and change in the length of the school day. 
"Those schedules that flex the current structure without adding additional minutes or need for additional staff are cost neutral and can be easily piloted at a site. Any schedule that requires additional staffing or longer work days are subject to budgetary restrictions and would likely need to be negotiated," said David Haglund, PUSD Superintendent.
Students want one additional period because many don't have enough slots to take electives additional to the graduation requirements or UC recommendations. In all grades, students have very limited space for classes they want to take for their own interest. For example, students usually take a history class, a math class, an English class, a science class, and a foreign language every year, leaving only one period for electives outside the standard curriculum. 
"I definitely would have liked a 7th period, so that I could take more fun courses like Digital Engineering, Cybersecurity, or something as simple as ceramics just to enjoy my time and learn more! Plus, it would have helped me get up on time for school," said Anusha Maheshwari ('22). 
Other Reasons and Options
There is currently an option for a seventh period in the form of A or B period, but those options are only made available for freshman PE or music ensembles, thus not accessible for other students wanting to take an extra elective. Implementing a seven-period schedule makes the option applicable to the general student body to try out different classes aside from the standard required electives.
"I have seen 7 period days work in block scheduling where not every student attends each class each day. I have also seen it work by having shorter periods. Both have academic impacts (some good, some less than), which is why it is an important conversation for teachers and site administrators to engage in early on in the planning process," said Haglund.
Options for trying out different electives are slimming as Amador has recently put in place a limit for outside credits for classes taken outside of school. According to the Amador Counseling Department, students can only receive credit for one outside course that equals out to 10 credits during their four years of high school.
"I think that the new credit policy definitely isn't fair for many students. For me, I took courses outside of school so that I would have space in my school schedule to take classes I was genuinely interested in, such as computer science, marketing, etc, and also to take courses not offered by the high school I want to learn," said Sarah Zhang ('23). 
The length of the school day is another factor in the possible shift to a seven period schedule. Fitting seven periods into the school day by shortening each period is feasible, but brings complexities such as the quality of each class. Students could be tempted by the option to take a new elective, but they would also have to consider the consequences if the school day becomes longer due to the additional period.
"In general, adding time to a school day creates expenses related to additional staffing. As long as it is consistently available to all students, the minutes can be used to count towards the minimum number of instructional minutes required by CA Education Code…There are also issues relating to the new late start legislation that requires the regular school days to begin no earlier than 8:30am at the high school level," said Haglund. 
Teachers' jobs will be a bit different if there is one additional period. They would certainly need to teach more classes than they have currently, requiring more effort through the prolonged schedule. However, there would most likely be an agreement for an increased salary between the teachers and district, and many teachers want to help more students by adding a period. 
"I think it would solve a lot of problems to have a 7 period day. I believe it would allow for more flexibility and a wider range of electives. But the problem is it's also more expensive. I know that our principal has advocated for the 7 period day and the district has denied it. I think most teachers would support adding the extra period too," said Charles Snyder, a math teacher. 
Adding an additional period into students' schedule remains on the table as the district is still debating over the issue. The feasibility of this possible shift in the next few years depends on the cost for teachers' prolonged work days, district or state requirements, and the popularity of this proposal among students, teachers, and administrators.