PUSD safely distributes at-home COVID-19 tests in response to Omicron
Due to the recent surge in COVID, the Pleasanton School District made the decision to distribute at-home COVID tests to all students. The tests are not mandatory, but are highly recommended.
"PUSD has been at the forefront in implementing health and safety measures related to Covid-19 response. Our goal is to keep our students and staff safe, and to keep [them] in school as best possible. Since the onset of Covid-19, PUSD has implemented strategies to address this goal. It is our intent that students test, and should they be positive with Covid-19, they can take the appropriate steps to stay home, isolate, and get well before they come to school," said Assistant Superintendent of Student Support Services Mr. Ed Diolazo.
The reason for the test distribution is the new and highly contagious Omicron variant. Cases in Alameda County have reached an all time high in the past two weeks as a result. When an opportunity came up, PUSD jumped at the opportunity to receive at-home tests free of charge.
"A few weeks ago, Alameda County Office of Education informed PUSD of the opportunity to receive about 15,000 at-home test kits to distribute to our students. Prior to the notice from ACOE, PUSD had already ordered about 15,000 at home kits from the State Department of Health. Therefore, with the supply of test kits coming to the district, our Pandemic Services Team, lead by Pandemic Services Coordinator Kelly French, organized the distribution efforts to get these test kits to our PUSD students and staff," said Diolazo.
The tests came in pairs so it can be taken twice prior to school starting. Once 3 days before returning to school, and once within 24 hours of returning to school. The test kit comes with instructions on how to test yourself for COVID using a cotton swab and a test analyzer.
"It provides a great resource for students and families who need a COVID test right now and can't find an appointment or don't have the financial means to buy one," said Vaneesha Dave ('22).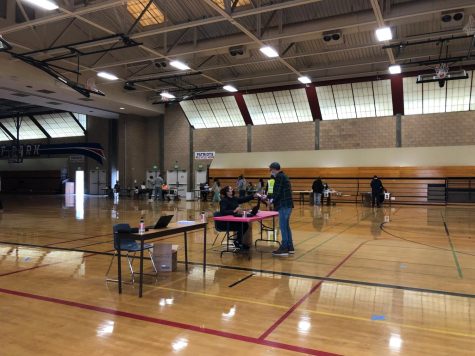 At the pick up, students were allowed to pick up their tests or send a parent or guardian to pick them up for them. The only requirement for pick up was to bring a student ID.
"I work at the PUSD pandemic services center at Hart so I helped distribute tests there," said Erica Haley ('22).
Distributions took place in multiple locations all across the Tri-Valley district. Volunteers and workers passed out test kits to students throughout the day in alphabetical order. Safety precautions were taken to make the event as safe and easy as possible.
"PUSD implements the district required safety precautions for all school events.  The distribution of test kits was held on our 3 middle school campuses. Therefore, all staff and volunteers, as well as parents and students, who traveled on to our campuses were required to wear a face mask. For our staff working the event we provided masks, and hand sanitizer. The gymnasium doors were also open to allow for airflow during the distribution," said Diolazo.