Don Squad floods Amador with spirit
The Don Squad spread spirit around campus today ahead of Amador's first football game.
"Today we did our spirit swat, which is where we all run into classrooms trying to hype up students, like push hard for them to wear purple and to come to the game and hang out in the purple pit, cheer for the school, and have a good time," said Carson Candler ('22).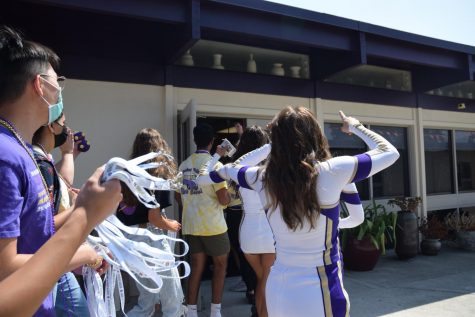 As Don Squad royalty, Candler and Youngberg make it their duty to boost AV pride.
"As an individual I did my best posting on social media and telling all my friends about Don Squad and getting everyone hyped to come to the game. For myself, I made sure I dressed up the best I could, hopefully to lead as an example especially as a part of Don Squad," said Sophia Youngberg ('22).
Additionally, Don Squad has been trying something different this year, taking advantage of social media for more than just making announcements.
"We started using social media a lot more [to try] to create funny videos. They're kind of just like improv. We just did like a skit and it turned out pretty fun," said Candler.
Find Don Squad's videos on Instagram @avhsdons!