Senior Sunrise for the class of 2022
On Monday August 9th our seniors enjoyed a beautiful start to their school year during the annual senior sunrise at Mission Hills Park with their friends and classmates.
"I thought that waking up early might not have been worth it, but I'm really glad I went," said Ryan Brace ('22).
Its purpose is to symbolize the new beginnings coming during and after senior year, and to begin their last year as high school students with one last hurrah. After a year of isolation the social gathering was a much needed change of pace.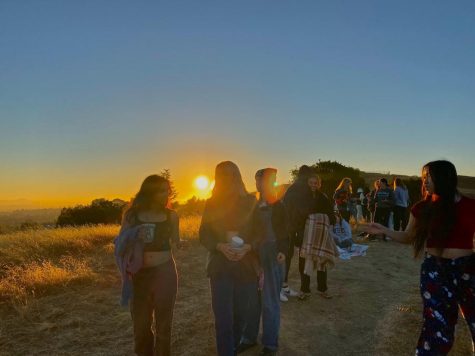 "It felt unifying to be with everyone," said Ella Hodges ('22).
Senior Sunrise is one of the most consistent events for our rising Amador seniors. 
"I enjoyed senior sunrise because it's one of the traditional things to kick off senior year with," said Hodges.
The sunrise was followed by bagels, donuts, and car decorating in the Amador Parking lot. Purple and gold paint shows off their school spirit to the streets of Pleasanton.
"People try to incorporate their graduating year into their design," said Hodges.
"2enior2" and "SENIORS" with "2022" written vertically in place of the "I" were popular options.