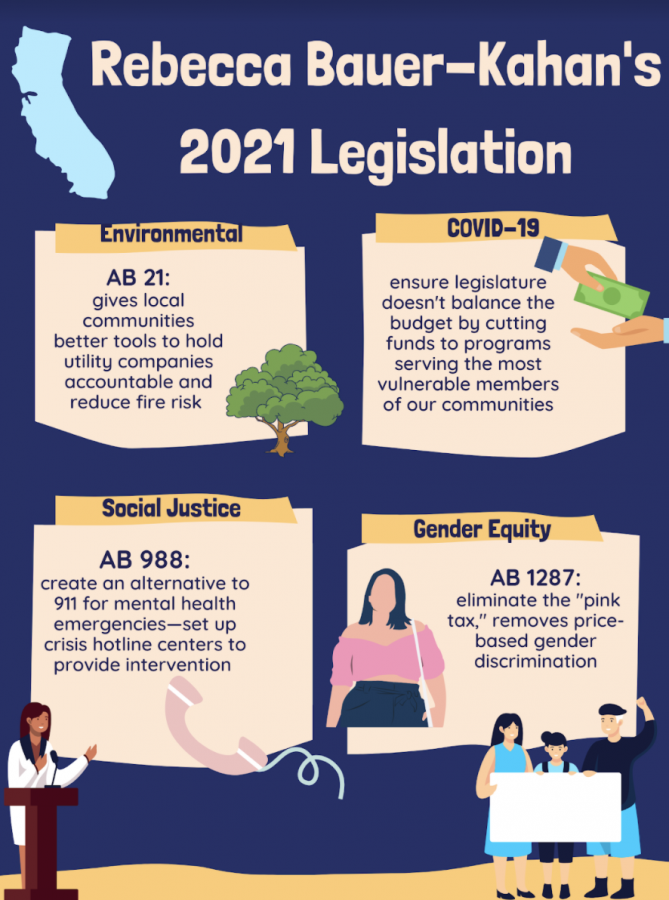 Erika Yan
Rebecca Bauer-Kahan was re-elected last November to the California State Assembly, specifically the 16th Assembly District which includes Alameda County. She was first elected there in 2018, and her term will end in 2022. In the meantime, she has a large agenda to fulfill. 
For 2021, her legislation covers a range of issues like the environment, criminal justice reform, gender equality, and COVID-19 recovery. She also advocates for funding for important projects, like Dublin's all-abilities playground or wildfire mitigation projects.
"It is very important for me to represent the values of my district. I listen closely to the input I get from community members and have done a survey of the district the last two years to get a good sense of what the priorities are locally," said Assemblymember Bauer-Kahan.
Last year, thousands of Californians faced an inadequate power supply. However, there is a lot of reliable clean energy stored in things like home and electric vehicle batteries. 
"AB 427 would allow owners of solar-charged batteries to sell that energy back into the grid. This creates another source of clean energy, which is critical for our state as we transition away from fossil fuels. This will help us meet our climate goals and prevent future challenges like the ones we saw last summer," said Bauer-Kahan.
California has also experienced extreme drought and some of the largest wildfires on record. Accordingly, there is some legislation pending regarding wildfire risk.
"AB 21 allows District Attorneys or the Attorney General to bring legal action against utility companies who are not doing the right things in terms of managing the vegetation around power lines. This gives our local communities better tools to hold utilities accountable and reduce fire risk," said Bauer-Kahan. 
Our current pandemic has presented a lot of challenges for the community, but also revealed a lot of inequalities and disparities between different communities. Women, people of color, low-income families, and small businesses have been disproportionately affected by COVID-19.
"As we move towards recovery, we need to make sure that we focus on equity and make sure we are not leaving Californians behind. Last year, the legislature fought hard to make sure that we did not balance our budget by cutting funds to programs serving the most vulnerable members of our communities and we will continue to do so as we move forward from this moment," said Bauer-Kahan.
Rebecca Bauer-Kahan is also on the Public Safety committee in the legislature, which oversees all legislation that relates to the criminal justice system. This year, she introduced AP 988 which will act as an alternative to 911 for mental health emergencies. 
"About 25% of all individuals killed in police-involved shootings since 2015 have had a known mental illness and black men are disproportionately affected. This bill will set up a system of crisis hotline centers to provide intervention as well as deploying crisis response teams that would be able to go in person to serve this person in crisis," said Bauer-Kahan.
Through her legislation, Assemblymember Rebecca Bauer-Kahan dedicates her career to improving the her community.