Support Counselor Jennifer Yu leads time management workshop
Last Wednesday, Amador support counselor Jennifer Yu hosted a time management workshop, sharing many tips to help students looking to boost their productivity.
"In the distance learning survey we sent out in November, almost 50% of students said they want more information on time management. Personally, working from home has also shown me that it's hard to manage the work-life balance without setting boundaries and using my time effectively. Students aren't alone in this…we can all benefit from learning or even being reminded of some things we can put into practice," said Yu.
Especially as everyone has had to change their previous routines due to distance learning, Yu emphasized planning ahead and forming a "quarantine routine" to help prevent feeling overwhelmed with work.
"If we spend time today planning our day, planning our week, planning our month, it gives us a greater feeling of control," said Yu. "One routine we can start today is to write down what we want to do the next day."
Yu also discussed some of the mental causes of procrastination. By understanding the reason why one tends to procrastinate, a person can forgive themselves for procrastinating instead of beating themselves up for it.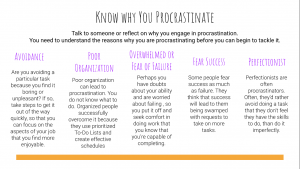 "I signed up for the workshop because I'm an A+ procrastinator – I pull through with my grades, but it's really close to the deadline. I've been practicing a lot of the organizational and time management skills we went over in the workshop – having a calendar, creating a to-do list, and blocking distracting sites, notably – but it was really interesting learning about why teens procrastinate, and how it isn't a work ethic issue," said attendee Sahana Kumar ('22).
This Wednesday, February 10th, students will have the opportunity to attend Yu's workshop about coping with difficult emotions and will have more opportunities to attend virtual workshops and hangouts in the future.
"Overall, the presentation was an incredibly useful resource for students who want to study better and I'm grateful to have Mrs. Yu be there for the student body. She is a resource many are yet to utilize, but they should!" said Kumar.